Closed
This consultation is now closed for comment. See the Engagement Summary Report to see what we heard during this consultation.
Home
Developing a new ACT Housing Strategy
In 2018, the ACT Government is developing a new housing strategy that will focus on assisting those who need it most—those experiencing homelessness and low income households in housing stress (paying more than 30% of their income on housing costs).

A new strategy will align with other related Government policies and programs including: planning reforms, housing choice, building design, land release and infrastructure, and residential tenancies.

Consultation period
From July 2017, consultation was open for seven weeks seeking feedback on the Towards a New Housing Strategy: An ACT Community Conversation discussion paper.
The consultation process included opportunities for the community, industry and stakeholders to share their ideas, expertise and personal experiences through:
drop in sessions,
a survey,
interviews, and
workshops.
What we heard
Read the Engagement Summary Report to see what we heard during the consultation period.
During the consultation, we received hundreds of individual comments with:
over 125 organisations participating in workshops,
more than 160 survey responses received,
over 120 people attending drop in sessions, and
almost 200 stakeholders participating in the Summit.
The Engagement Summary Report brings together all the feedback from each of the different consultation processes grouped under the four main goals that we consulted on:

Reducing homelessness;
Strengthening social housing assistance;
Increasing affordable rental housing; and
Increasing affordable home ownership.
This summary of the different ideas and contributions demonstrates the complexity of the challenges facing the ACT and the diverse range of participants involved in the consultation process.

The ACT Government will be using the ideas included in the Engagement Summary Report as it continues with the development of the ACT Housing Strategy in 2018.
See the 'Key documents' tab at the top of this page for individual Summary Reports.
What's next
Developing a new Strategy:
The ACT Government is progressing the development of a New ACT Housing Strategy. We are working with the Minister's Advisory Group on Affordable Housing on the ideas received during the Housing and Homelessness Summit and the community engagement on the Discussion Paper – Towards a new Housing Strategy.
Some early initiatives were launched at the ACT Housing and Homelessness Summit in October 2017. These are:
a. Introducing new housing targets for pubic, community and affordable housing in Government greenfield and infill developments;
b. Introducing eligibility criteria for purchasers of dedicated affordable housing;
c. Establishing a database of eligible registrants for people interested in purchasing affordable housing;
d. Rebasing the affordable home purchase price thresholds; and
e. Establishing an Innovation Fund for affordable housing which includes a grants program to assist in introducing or expanding an affordable housing real estate management model, a home sharing program and a design led co-housing model.
The new Housing Strategy will replace the 2007-2017 Affordable Housing Action Plan and outlines new ideas and initiatives to be brought forward from 2018-19 onwards.
Innovation Fund:
At the housing and Homelessness Summit on 17 October 2017, Minister Berry announced a $1 million Innovation Fund. The ACT Government has opened applications for the first round of funding under the Innovation Fund.
The Affordable Housing Innovation Fund will encourage and support new approaches to increasing the supply of affordable housing in the ACT. Grants of between $5,000 and $230,000 are available for projects within three affordable housing categories.
The focus of the Innovation Fund is to increase the supply of affordable housing options for households who are in housing stress in the private rental market, or are looking for alternatives to public housing. We are looking to support pilot projects, and provide funding to support the initial stages of innovative new programs until they can become self-sustaining. Organisations are invited to apply for funding to support projects within the following categories:
Affordable Rental Real Estate Management: In this model landlords provide their property to either a not-for-profit real estate agency or to another social housing provider to be rented out to eligible low income tenants at below market rent.
Home Sharing: In this model homeowners with a spare room in their own property are matched with low income tenants seeking affordable rental accommodation, in exchange for providing assistance around the house.
Co-Housing: In this model a group of interested purchasers come together and collectively design and fund their own multi-unit housing project.
We are open to ideas from applicants about how this funding can assist in getting their project up and running. The Fund may be able to assist with, for example:
program establishment costs
specialist advice
program managers
promotional campaigns
More information including Program Guidelines, links to similar programs operating elsewhere, and the Application Form can be found online at https://www.planning.act.gov.au/topics/affordable_housing/innovation-fund until Friday 11 May 2018.
The challenge
Access to appropriate and affordable housing options is a nationwide issue. In the ACT, low to moderate income households who earn less than $100,000 annually are particularly at risk of homelessness or are experiencing housing stress. Housing stress is where a household is paying more than 30 per cent of household income on rent or mortgage payments.
By focusing on these low to moderate income families, it is clear that a suite of different solutions will be required. Of particular priority are:
the 1,700 people experiencing homelessness – this includes people living in supported accommodation, staying in temporary accommodation, in severely crowded living arrangements or are sleeping rough.
the 7,000 households in the private rental market who are paying more than 30 per cent of their income on rent and are at a high risk of experiencing homelessness.
Approximately 11,500 households are living in either public or community housing.
Other priority areas include:
housing options for older women, Aboriginal and Torres Strait Islander communities and women and children escaping domestic and family violence and people with disability.
providing opportunities or improving existing services for the 9,000 households in public housing, and
boosting the supply of private rental and home purchase opportunities for all low to moderate income earners.
The task at hand is considerable and should not be seen as one that the Government must tackle alone. We need to work together as a community to find new and better ways to address these issues, and think about how we can work together to leverage the combined efforts of government, industry and the social sector.

Background
In 2007 the ACT Government released the first Affordable Housing Action Plan, which included 63 initiatives to provide more affordable housing and rental accommodation in Canberra. The strategy had broad targets from addressing homelessness through to building a pipeline of new land supply.
Read the 2011 Progress Report on the Affordable Housing Action Plan here.
Ongoing reviews of the action plan identified a need for a sharper focus specifically on households earning less than $100,000 a year.
In early 2017 the ACT Government set up an Affordable Housing Advisory Group. This group provides an independent, external perspective of the challenges of housing affordability in the ACT and is responsible for advising on the development of the ACT Housing Strategy. The Advisory Group endorsed four broad goals for the housing strategy to focus on:
Reducing homelessness;
Strengthening social housing assistance;
Increasing affordable rental housing; and
Increasing affordable home ownership.
Members also played an active role in ongoing wider community consultations in the lead up to the ACT Housing and Homelessness Summit in October 2017.
Members as at April 2018 are:
Adina Cirson—ACT Property Council
Peta Dawson—ACT Housing
Travis Gilbert—ACT Shelter
Alan Morschel—Australian Institute of Architects, ACT Chapter
Chris Redmond—Woden Community Services
Christine Shaw—Luton Properties
Neil Skipper—Havelock Housing Association
Robert Tanton—University of Canberra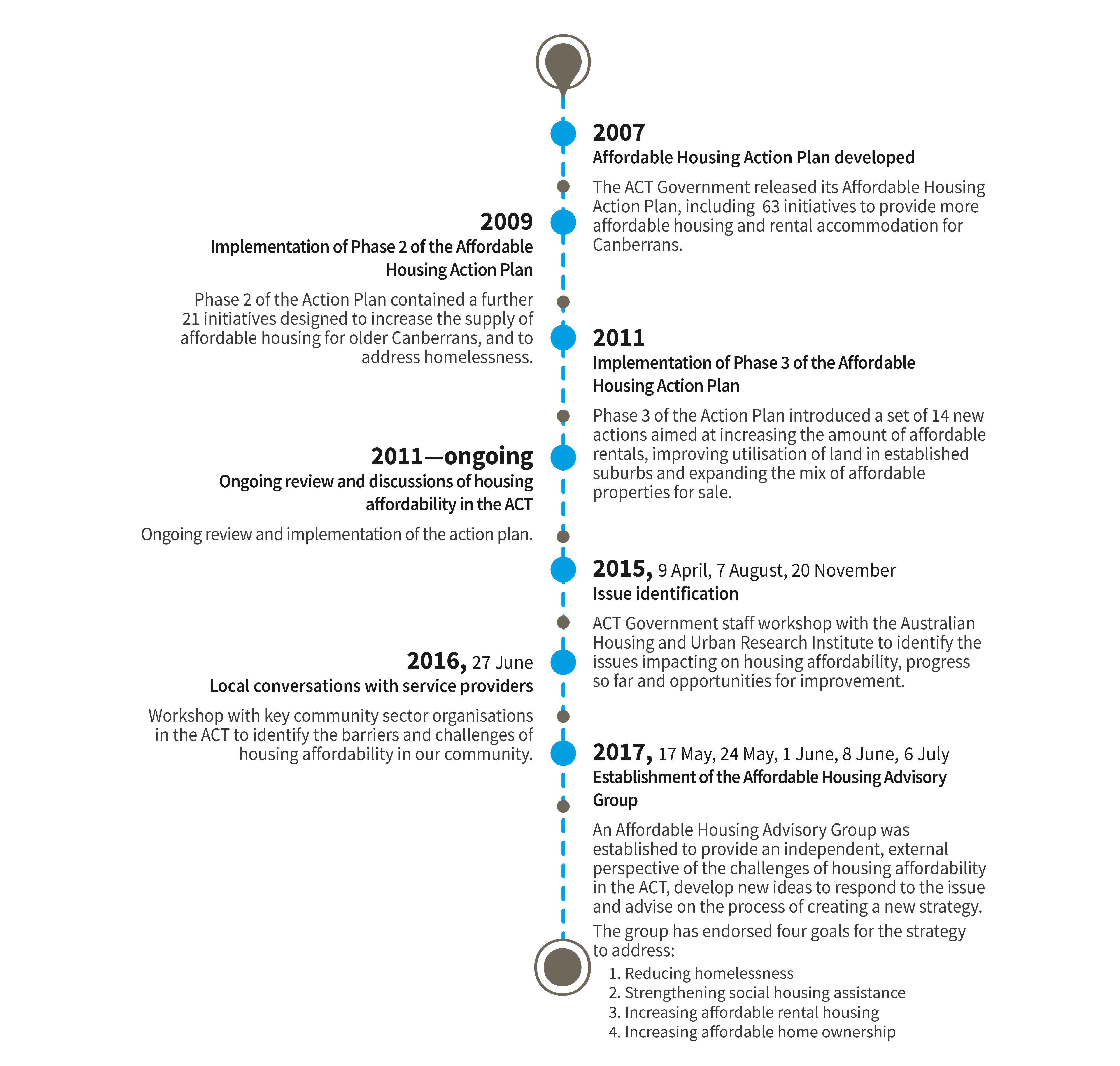 The ACT's 150,000 households are divided into income quintiles. This strategy will focus on the first two quintiles.
Key documents